Graduate study in Japanese history focuses on the early modern and modern periods and covers a variety of themes including premodern and modern literacies, science and technology, city and countryside, and empires and environments. Students will be encouraged to engage with a variety of theoretical and methodological approaches and to contextualize Japan's history within the broader currents of East Asian and global histories. An emphasis is also placed on using primary sources written in Japanese, so students are recommended to enter the Ph.D. program with the equivalent of at least three-years of university-level Japanese-language study.
Core faculty
Roderick Wilson is the core faculty member in Japanese history. His research focuses on nineteenth and twentieth-century histories of science and technology, the city, and especially environmental history.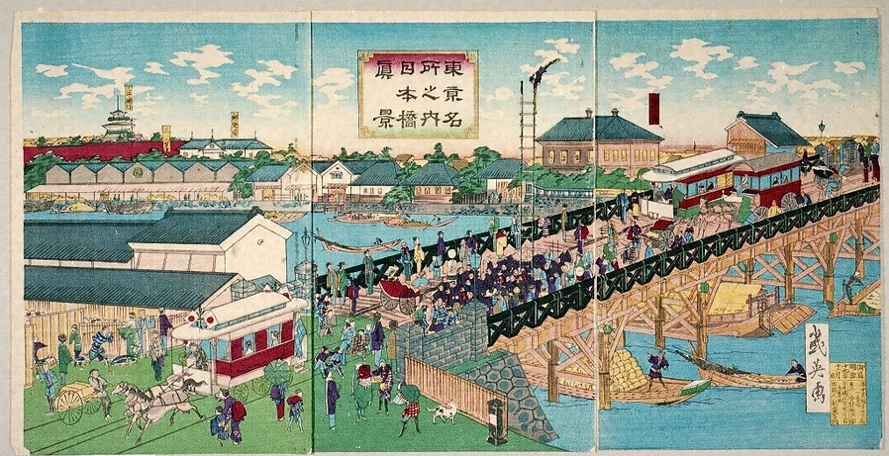 Caption: Kobayashi Ikuhide, "Tokyo meisho no uchi Nihonbashi shinkei" (1886)
Japan-related resources
To support the study of Japanese history, there are a number of other resources at the University of Illinois. These include the Department of East Asian Languages and Cultures (EALC) and the Center for East Asian and the Pacific Studies (CEAPS). In addition to language courses in Chinese and Korean, EALC offers four years of coursework in the Japanese language as well as a two-course sequence in classical Japanese. The University of Illinois is also a member of the Inter-University Consortium (IUC) in Yokohama, Japan where many of our graduate students receive competitive funding (Nippon Foundation, FLAS, etc.) to advance their Japanese-language abilities.
In addition, the university has one of the best academic libraries in the United States. Within the International and Area Studies Library, the East Asian Collection has over 250,000 books and journals in Chinese, Japanese, and Korean languages and specialists to support student research. The Japanese Studies Collection alone includes over 85,000 volumes, 150 serial titles, and 1,000 microfilm items.
Affiliated faculty