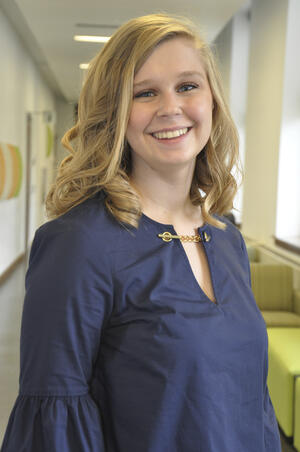 Sara is beginning her teaching career in Fall 2019 at Downers Grove North High School as a social studies teacher. She will be teaching Global Connections, a freshman survey course on World History, and Ancient and Medieval History, an elective history course for upperclassmen. Sara also plans on serving as a sponsor for the theater department, volunteering for different productions and arranging fine arts field trips
What is your favorite part about your current position? How did you get to where you are now?
Although I have not started yet, I already have a good feeling about the environment I will be working in and the people I will be working with. Working in the field of education, it can become very easy to adopt a negative mindset and get discouraged by external factors (unsupportive administration, disruptive students, unhappy parents), especially after many long, stressful days. However, I believe that true success and growth comes from identifying areas that you can control and improve upon. Luckily, my new colleagues are positive, humble, and have very similar expectations about teaching; for that, I am truly grateful. I believe that the support that I will be given will allow me to help students the best I can. Downers Grove North also has a strong commitment to social justice education, which is vital to teaching history in a well rounded, all-inclusive manner.
I feel extremely lucky to have been hired by Downers Grove North High School, but I also acknowledge that my training and hard work have given me the tools to succeed. My education at the U of I, thanks to great teachers, has taught me to value determination and positivity and to primarily think about how I can help students. Without the fours years I spent in Champaign, I do not think I would be working at Downers Grove North.
What did you most enjoy about being a history major at UIUC?
I really loved getting to learn from everyone, both the professors and the other students themselves. History is vast; It is impossible to learn every single aspect of it! But that is what made interacting with everyone so great. One professor I had, Ralph Mathisen, knew what felt like everything about the Roman Empire; no question could stump him. And yet, at the same time, I was sitting next to students in class who were experts on all sorts of other things: 19th century Russia, Chinese literature, the intricacies of Mormon settlers in the United States, you name it. While that was certainly intimidating, we were able to learn from another. As a teacher, I will never know everything about what I am teaching, but that doesn't mean I don't hope to continue to learn about it every day, whether it is from my colleagues, my students, or resources provided to me. Continual learning is so important.
What was the best class you took in the history department and why?
This is too hard a question, so I am going to pick two courses. The first class, HIST 410: Decolonization in Africa, was, admittedly, something I chose solely due to the college's requirements. I needed a "non-western" course, and I figured I could benefit from learning a little bit more about a continent I was totally unfamiliar with. While I recognize that some might be scared off by such a content-heavy course, I truly think everyone should have to take something similar. I learned so much, not just about the different intricacies of unique African countries, but how the United States has become involved and how we have struggled to decide whether our presence will help or hurt. Thinking like a social studies teacher, I want to erase the notion that Africa is solely self-destructive and impoverished. It is much more diverse than we realize, and when these countries do struggle, it is not entirely the fault of their own.
I looked forward to this second class every week. HIST 371: The American Revolution focused on primary sources from the time period and took a critical look at the idea that England was the villain of the Revolutionary War. My favorite memory is getting the chance to teach one session of this class for an honors project. Through this experience, I developed a strong bond with Professor Morrissey, who helped me craft a lesson to discuss the musical Hamilton in the context of history. My classmates and I debated over its historical authenticity and what it meant that the public was so excited about history, something we had already loved enough to devote our lives to it. I know that whenever I teach U.S. History at the high school level next, I will be an expert on this time period.
What aspects of your education as a history student have been the most beneficial to you?
Most people do not understand the appeal of history because they think it is about memorizing dates and facts; in fact, I have had many high school students ask me, "why do I need to know this?", and it is my job to convince them that my class is worth their while. In all honesty, I do not remember a lot of the facts that I memorized for exams; for me, learning how to be critical, analytical, and decisive in my history classes will be what helps me be successful in future. In my classes, I wrote essays and prepared for debates using primary and secondary sources, and these projects required me to exercise my critical thinking skills and interpret an intense amount of complicated information. Now, when I read anything, including news articles on social media, I am able to discern not only important information but detect bias and determine credibility so that I may determine what I believe to be the strongest side of the argument. I hope to pass on these skills to my students so that they can be citizens who take their job in a democracy seriously.
What advice would you give to current history majors about the professional realm?
If you are looking to become a teacher, remind yourself why you are working hard at your classwork at the U of I. The harder that you work, the more your students are going to benefit from your knowledge. Sometimes, this means being critical about what you prioritize and what classes you end up taking. What will help your learners be active and engaged citizens?
If do not want to go the teaching route, that is OK! In fact, I would implore you not to choose to teach because you do not know what else to do. Teaching is incredibly difficult, and although it is rewarding, you should not pursue it unless you have a passion. Instead, do something with history that you are passionate about. For some, this might be working in a library, becoming a professor, or care-taking in a museum. For others, it might be something further outside the box, and that is OK too. Majoring in history gives you the opportunity to become a critical thinker, which every employer wants. Your major is extremely flexible: the most important part is how you sell yourself in the interview.