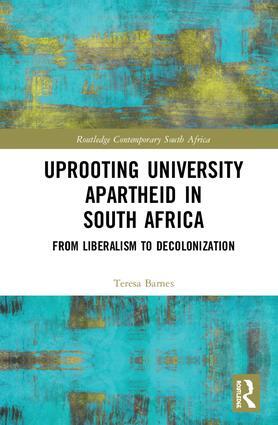 South Africa continues to be an object of fascination for people everywhere interested in social justice issues, postcolonial studies and critical race theory as manifested by the enormous worldwide attention given to the #RhodesMustFall movement. In this book, Teresa Barnes examines universities' complex positioning in the apartheid era and argues that tracing the institutional legacies left by pro-apartheid intellectuals are crucial to understanding the fight to transform South African higher education.
A work of interpretive social history, this book investigates three historical dynamics in the relationship between the apartheid system and South African higher education. First, it explores how the legitimacy of apartheid was historically reproduced in public higher education. Second, it looks at ways that academics maneuvered through and influenced national and international discourses of political freedom and legitimacy. Third, it explores how and where stubborn tendrils of apartheid-era knowledge production practices survived into and have been combatted during the democratic era in South African universities.
This block is broken or missing. You may be missing content or you might need to enable the original module.