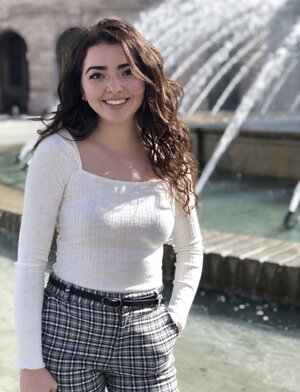 Carmen is completing the History-Secondary Education track with endorsements in Political Science and Psychology. She has featured on the LAS Dean's List in each of her semesters at Illinois and was named a Gilman Scholar in Spring 2019. Carmen's superb academic achievements have been recognized by the History Department: She received the William F. and Virginia C. Waterman Scholarship (recognizing superior achievement in the History capstone course, HIST 498) and The Centenary Prize for Outstanding Senior in the Teaching of Social Studies.
As part of her capstone student teaching experience, Carmen is teaching US History and World History at Buffalo Grove High School. Carmen has made the most of her time as a Student Teacher and has regularly participated in professional development meetings and workshops addressing social-emotional learning, e-learning, and culturally responsive teaching in history. Previously, Carmen completed student observation placements in Centennial High School and Central High School and volunteered at Urbana Middle School.
Carmen studied abroad in Pavia, Italy during Spring 2019 and was so smitten with the experience that she joined the Illinois Abroad and Global Exchange (IAGE) Office as a Program Assistant upon returning! She worked to foster a passion for global engagement and education with fellow students. In Carmen's own words, studying abroad "helped me better understand the underlying political and social consequences of the past."
This block is broken or missing. You may be missing content or you might need to enable the original module.