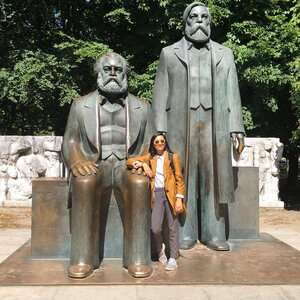 Amina is an artist and a published author, in addition to her work in museum and archival studies. She has worked as an archival research assistant for the Illinois History and Lincoln Collections in the University of Illinois Library and completed an internship at History Colorado where she worked as an oral historian documenting the history of rural agricultural communities. As a Communications and Undergraduate Outreach Intern for the Humanities Research Institute (HRI), Amina helped manage the campus humanities events calendar, orchestrated weekly e-bulletins, and generated reports about student and community engagement. Amina received the William F. and Virginia C. Waterman Scholarship in recognition of the exemplary work she produced in Professor Barnes's HIST 200 course in Spring 2020. Amina has also served as the Social Director and Outreach Coordinator for Underrepresented Minority Muslims Advocates (UMMA).
 Amina's artwork and historical essays focus on the marginalized minority Ahmadi Muslim religious community to which her family belongs. Two of Amina's essays were published this year, "Chasma" (Eyeglasses), in Medium  and "'Kafir': a Label Used against Minorities in Pakistan," in Browngirl Magazine. The former deals with oral history, memory, and the trauma of Partition in the Punjab; the latter with the persecution of Ahmadis in Pakistan. Amina brings a sense of justice to her artistic and historical work in preserving her family's history and their tale of resistance.
This block is broken or missing. You may be missing content or you might need to enable the original module.