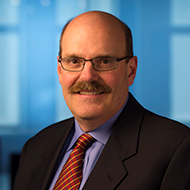 David was raised in the Western Suburbs of Chicago.  He came to UIUC in 1978 to major in East Asian History and Asian Studies. In 1980 he became one of the first American students to study in the PRC and spent two years in the history department at Fudan University in Shanghai. He continued on to get his MA in Asian Studies and JD from UIUC. After graduation, David worked in healthcare management consulting focusing on reimbursement and regulatory compliance. This led to his current position in staffing focusing on corporate education and training in the clinical and technical fields of healthcare. David also keeps his hand in the world of legal practice by serving as an attorney for a Milwaukee based boutique law firm.
Could you please describe your current position?
I am the CEO of the Gogolak Communications Group in Milwaukee, WI. We are a staffing firm that specializes in corporate education and training. I am also an attorney with the firm of Hansen Reynolds in Milwaukee where I work on matters related to East Asia.
What is your favorite part about your current position? How did you get to where you are now?
I enjoy the people that I get to work with and that I get to remain engaged with education and training. Although we are headquartered here in Milwaukee our customers have global reach and the products my employees create and support are deployed all over the world. As an attorney I get to work with clients from East Asia and assist them with their legal challenges here in the USA.
What did you enjoy most about being a history major at UIUC?
My favorite part of being a history major was that it was like being in a small college within this enormous university. Class sizes were small and the faculty was amazing. There was a lot of direct interaction with faculty and if you specialized in an area like East Asia you soon got to know the professors quite well. That could be challenging as well since faculty got know your strengths and weaknesses very quickly but that personal attention made a huge impact on me.
What was the best class/favorite professor you took in the history department and why?
I remember Prof. Lloyd Eastman very well. He was a very widely respected scholar of Qing and Republican China. He became a teacher and mentor to me. He encouraged me to pursue my interest in East Asia but China especially. At a time when many faculty members were very skeptical of opening relationships with the PRC and mainland universities, he was willing to keep an open mind and give encouragement to those of us who wanted to explore. And he gave me a great piece of personal advice…go to law school!
What aspects of your education as a history student have been the most beneficial to you?
There are two aspects of my experience in the history department that I think have helped me the most through the years. First is the training as an historian. The ability to read texts, to analyze information and produce your own synthesis or conclusions was invaluable to me as I proceeded on to law school and the rest of my career. The ability to write and communicate is part of the package.  Second is the education I received as a human being and citizen of the world we inhabit. As important as data and numbers are to a career in business, personal relationships are even more important. The ability to understand and connect to people from around the world remains one of the greatest outcomes from my education.  Wherever you go in the world people are always amazed and flattered that you know something about their culture and history.
What advice would you give to current history majors about the professional realm?
My advice to history majors is to embrace this time and this major and educate yourself for your whole life. You will spend a lot of the rest of your life and career engaged in the functions of whatever your day job requires. To me history is the story of who we are as human beings. This is the time in your life when you can devote some time to educating yourself to being a whole human being. Take advantage of that!