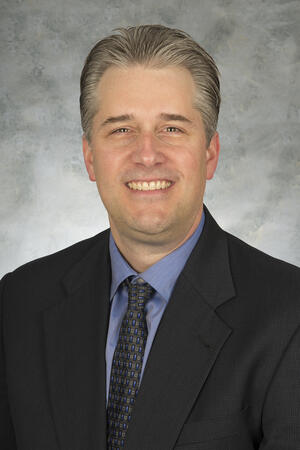 Chad is an Associate Dean at Illinois State University's Milner Library.  In that role, he administers the Public Services unit that provides collection development, government documents, instruction, reference and research services, and subject librarian services and the Information Technology unit.  In a typical year, Milner welcomes 700,000 visitors, offers more than 500 library instruction sessions, performs over 23,000 reference transactions, circulates roughly 129,000 items, has more than 170,000 computer logins, 3D prints more than 800 items, and hosts over a million visits to its web site.  The library also houses more than 1.4 million items and provides access to over 100,000 periodicals and roughly 280 online databases.  Chad also serves as the Law Librarian that supports the needs of students, faculty and staff of the Legal Studies program in the Department of Political Science.
What is your favorite part about your current position? How did you get to where you are now?
I got into librarianship because I have strong desire to help people.  Libraries have been and are continuing to undergo dramatic change due to the paradigmatic shift from print to online for many of our information services and resources.  In my current position, I have the ability to challenge the library to explore new directions as many traditional expectations for library resources and services are changing.  I went to the U. of I. initially to be an aeronautical engineer, but soon discovered that the classes I enjoyed most were those in the social sciences, so I transferred into political science and then added history when I realized that the two majors complemented each other so well.  I so enjoyed the higher education setting that I pursued a doctorate in political science.  In doing so, I realized that what I enjoyed most was the research process.  I had a very understanding doctoral advisor who suggested I take library science courses while I was finishing up my political science masters degree.  It had taken three tries, but I finally figured out what I wanted to be when I grew up.  I've been a librarian for over twenty years and have found it be very professionally rewarding.  For the first fifteen years, I was primarily focused on teaching library research skills and helping patrons as a subject librarian.  I moved into an administrative role a little more than five years ago.
 What did you most enjoy about being a history major at UIUC?
I absolutely loved the research process. I was fascinated by exploring what others had researched and written on issues, events, and people that had intrigued me for years.  I always had my nose stuck in a book growing up—often about military history—so being a history major just built on those lifelong pursuits.
 What was the best class you took in the history department and why?
My favorite courses were Professor John Lynn's two-semester military history sequence.  Not only was he a very entertaining lecturer, but he challenged my lifelong focus on the battles, tactics, and generals.  I had never really stopped to think that all the logistics that ensured the soldiers, sailors, or pilots were fed, clothed, and equipped.
What aspects of your education as a history student have been the most beneficial to you?
I may not remember all the dates, facts and names that I learned nearly thirty years ago, but I daily utilize the critical thinking, research, and writing skills that I honed as a student.  During my years as a history and political science student, I became to appreciate the broad scope of history.  I believe that has made me comfortable with change in a way that has helped me throughout my career.
 What advice would you give to current history majors about the professional realm?
 Think about how to set yourself apart.  When I'm looking at candidates for library positions, I'm looking to see who pushed themselves.  Who pursued student research opportunities as an undergraduate?  Who pursued internships? Who studied abroad? Who challenged themselves with coursework that broadened and challenged their perspectives?  Who pursued leadership opportunities that demonstrate the ability to work well with others?