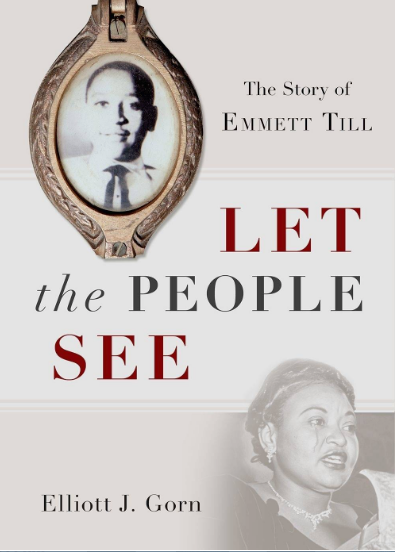 Elliott Gorn Lecture - February 20, 2019, 4:00 pm, 319 Gregory Hall
In our next Bicentennial Lecture, we are excited to welcome Elliott Gorn, Joseph A. Gagliano Chair in American Urban History at Loyola University, on his new book which explores the story of Emmett Till's death at the hands of white Mississippians. For many Americans, it highlights the racism of the Jim Crow South and was a defining moment that helped galvanize a generation of civil rights leaders.
"Everyone knows the story of the murder of young Emmett Till."
In August 1955, the fourteen-year-old Chicago boy was murdered in Mississippi for having – supposedly – flirted with a white woman named Carolyn Bryant, who was working behind the counter of a store. Emmett was taken from the home of a relative later that night by white men; three days later, his naked body was recovered in the Tallahatchie River, weighed down by a cotton-gin fan. Till's killers were acquitted, but details of what had happened to him became public; the story gripped the country and sparked outrage. Elliott Gorn delves into facets of the case never before studied and considers how and why the story of Emmett Till still resonates, and likely always will. Even as it marked a turning point Gorn shows, hauntingly it reveals how old patterns of thought and behavior linger in new faces, and how deeply embedded racism in America remains. (Publisher; University Press, 2018)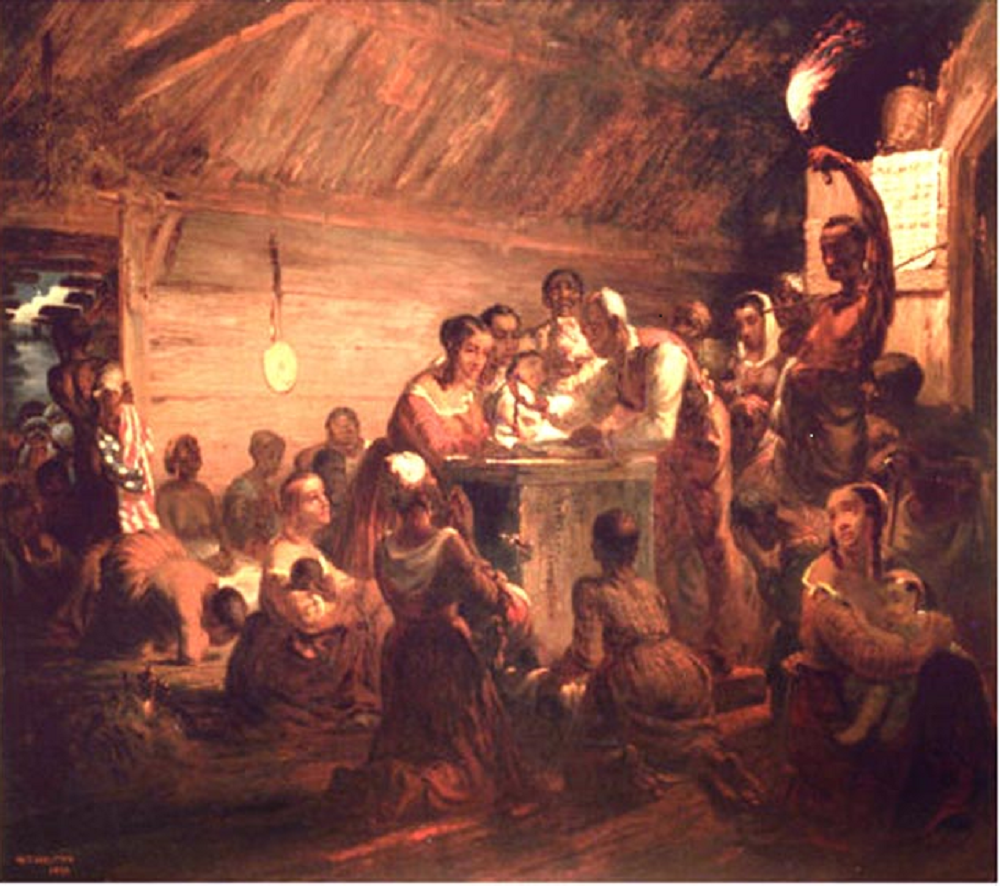 Please join CHI in welcoming guest lecturer M. Scott Heerman on Thursday, Nov. 8, 4:00 pm, 217 Gregory Hall, as he presents: 'Round About Midnight: Slavery and Freedom in the Land of Lincoln,'  part of the CHI's Illinois Bicentennial Lecture Series.  Heerman is the author of: The Alchemy of Slavery: Human Bondage and Emancipation in the Illinois Country, 1730-1865.
When did Illinois become a free state? Spanning a century and a half, M. Scott Heerman will trace the making, remaking, and eventual unmaking of slavery in Illinois. Drawing from his new book, The Alchemy of Slavery, he shows that over its long history Illinois went from Indian Country to European Empire, from a border south region to bulwark of the free north. Each moment of transition over Illinois's long history reveals a new elements of the black freedom struggle and the making of a free society.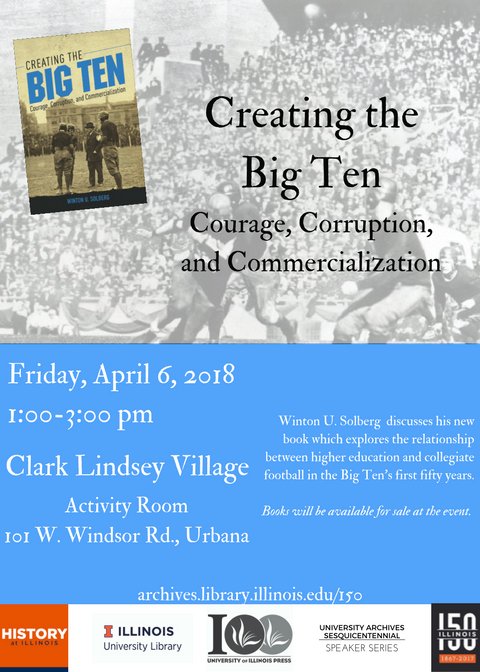 Friday, April 6, 2018:
Author Talk: Winton Solberg, Creating the Big Ten Courage, Corruption, and Commercialization
Clark-Lindsey Village, 101 W Windsor Road, Urbana, 1pm-3:00pm
For more details see the History Dept. calendar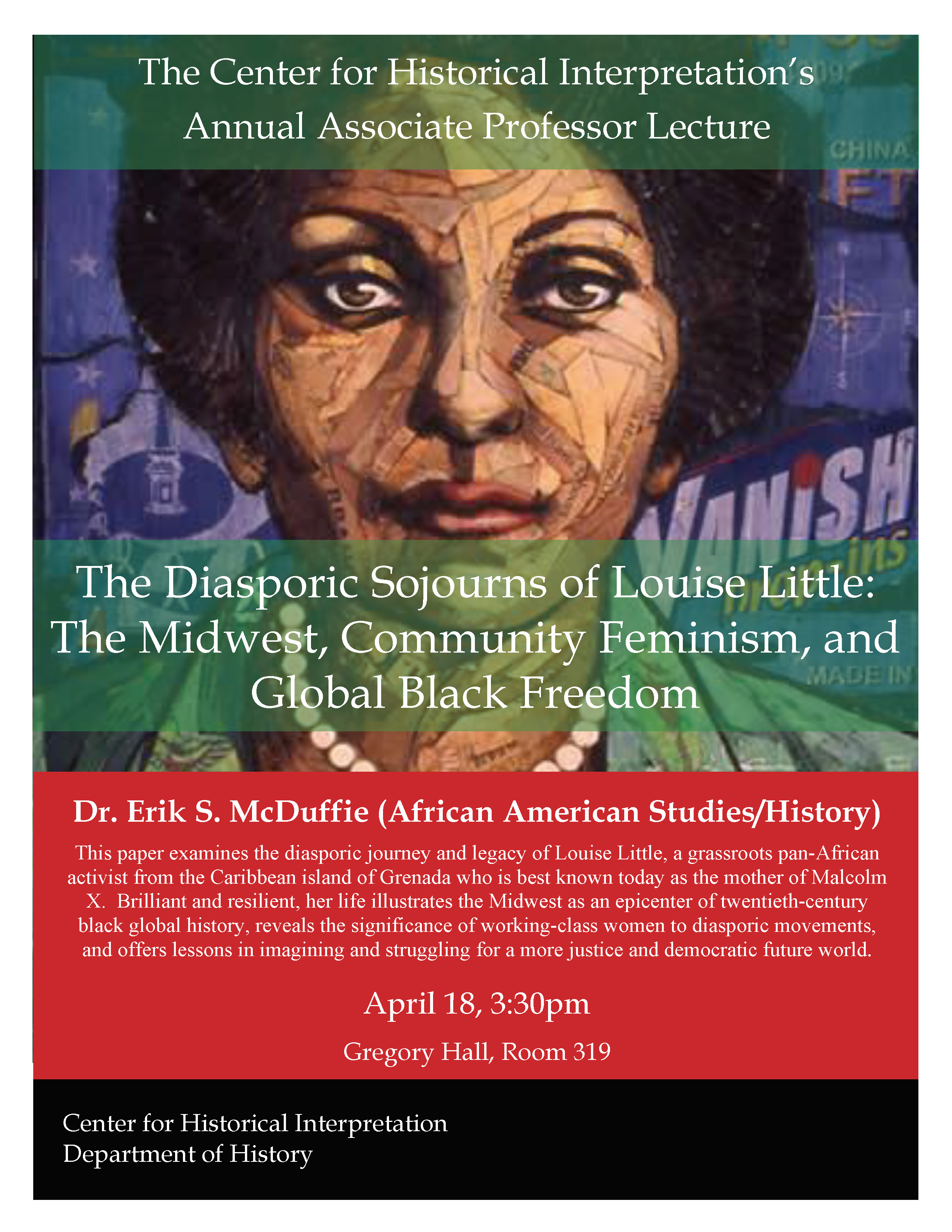 Wednesday, April 18, 2018:
CHI Associate Professor Lecture: Erik McDuffie, The Diasporic Sojourns of Louise Little: The Midwest, Community Feminism, and Global Black Freedom
Gregory Hall, Room 319, 3:30pm-5:00pm
For more details see the History Dept. calendar
Saturday, April 28, 2018:
University of Illinois Teachers' Professional Development Workshop on Illinois History
Illini Union, Room 210, Urbana, 9:00am-5:00pm