Image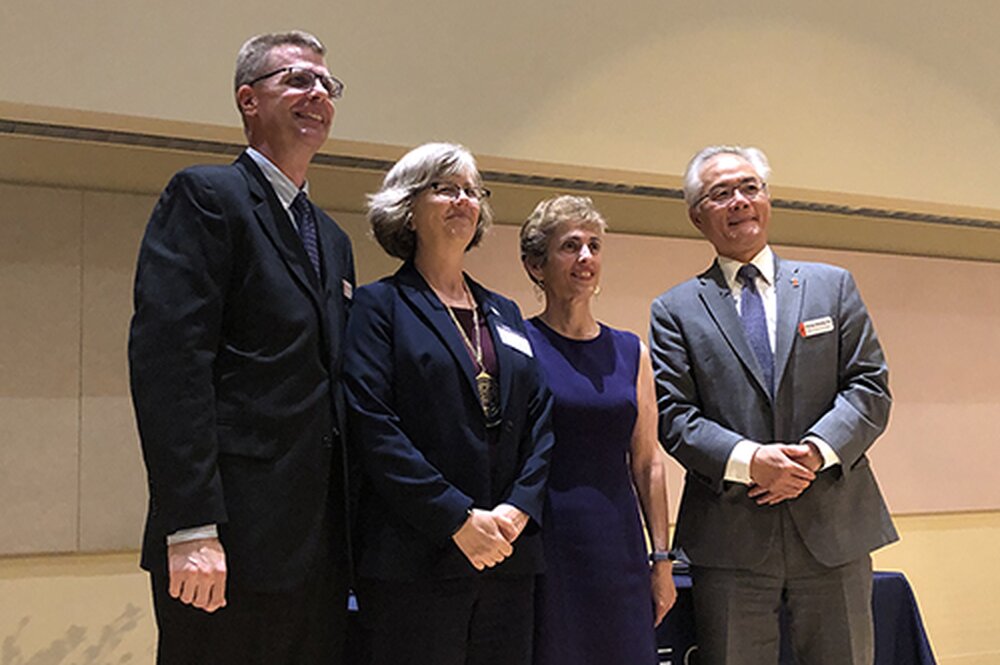 Kristin Lee Hoganson, a professor of history who has been at Illinois since 2000, has been named the Stanley S. Stroup Professor of United States History. The position is named after Stanley Stroup, an Illinois alumnus who obtained his bachelor's degree in history in 1966.
Hoganson's research focuses on U.S. foreign relations history and the history of U.S. empire from the 19th century through World War I. She has also written about masculinity and policymaking, trade, and consumption.
She has edited and written many publications, including four books. Her most recent book, The Heartland: An American History, which takes the American heartland as a starting point for tracking histories of border brokering, human mobility, geographic consciousness, imperial piggybacking, and alliance politics.
The endowed position was made possible by Stanley Stroup (BA, '66, history), who retired in 2004 as executive vice president and general counsel of Wells & Fargo Company. After attending Illinois, Stroup earned a law degree at the University of Michigan in 1969 before moving on to become general counsel of Norwest Corporation, which merged with Wells Fargo in 1998. He is a director of H5, a San Francisco-based company that provides e-discovery, technology-assisted legal reviews, and case-preparation support to the legal profession.
Stroup, who attended a ceremony honoring Hoganson, said he learned how to write effectively and think critically as a student at Illinois. Endowing a history professor is only partial payment of the debt and gratitude he owes, especially to the Department of History, he said.
"I've come to know professor Hoganson and her work," Stroup said, at the ceremony. "I'm delighted professor Hoganson is the Stanley S. Stroup Professor in United States History and I look forward to getting to know her better."
Feng Sheng Hu, the Harry E. Preble Dean of the College of LAS, said that an investment in faculty is an investment in future generations.
"Faculty like Kristin bring a deep understanding of history and the ability to analyze the present in the classroom," Hu said.
William Bernhard, vice provost for academic affairs and a professor of political science, noted that Hoganson has contributed greatly to not only her field of study, but also the university.
"We're not just thinking about the many achievements that Kristin has had in her career," Bernhard said. "We also think about the time and the effort that has gone into those achievements and the many sacrifices that she's made over the years to maintain such an excellent level of scholarship teaching and engagement."
Hoganson has received several awards for her research and scholarship, including the Wayne D. Rasmussen Award from the Agricultural History Society, the Ray Allen Billington Prize from the Western History Association, Stuart L. Bernath Lecture Prize from the Society for Historians of American Foreign Relations, and the Harmsworth Visiting Professorship at Oxford University. From 2014-2017, she was a Richard and Margaret Romano Professorial Scholar. She was a University Scholar from 2010-2013.
In spring 2011, she was a visiting Fulbright professor at the Ludwig-Maximilians Universität. Her research has been supported by an American Council of Learned Society fellowship, the U of I Center for Advanced Study, and a Mellon Faculty fellowship.
Aside from her own research, Hoganson acknowledged her colleagues' expertise in African American, Native American, Asian American and Latinx history, which has helped her become a better scholar and professor.
"Although I have a number of intellectual debts to my colleagues across the profession, it is the history department at Illinois that has made me the historian I am today," Hoganson said. "My colleagues at Illinois drew me into global history and post-colonial studies."
Hoganson said that her position is an investment in public higher education, evidence-based reasoning, and the value of a long term perspective for the pressing issues of our own time.
"This position will outlast me and all of us who are present today continuing to advance our commitments over generations," she said.
Reprinted with permission of LAS News
Related topics: