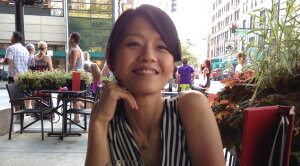 Research Interests
U.S. empire; women, gender, and sexuality; human and nonhuman resource extraction; Atlantic and Pacific world     
Research Description
I am currently working on two projects. One examines U.S. expansion into Pacific islands through the lens of race, gender, sexuality, labor, and anthropocentrism. It traces the formation of the U.S. insular empire back to the early nineteenth century, paying attention to its sustenance and promotion through human and nonhuman production of energy. The other investigates how U.S. encounter with East Asians--what nineteenth-century contemporaries called "Orientals" or "Asiatics"--led to complex systems of race, gender, and sexuality that went beyond a black-white binary.  
My first book, Tropical Freedom: Climate, Settler Colonialism, and Black Exclusion in the Age of Emancipation (Duke, 2017), argues that during the late eighteenth and mid nineteenth centuries British and American expansionists and free Black activists produced different imaginings of an Atlantic world that variously and often contrastingly mapped Black freedom within its geographic bounds and that these conflicting geographies of race and freedom became inseparably intertwined with U.S. and British North American settler colonial formations.  Importantly, both promoters and protesters of geographic management of race employed tropes of domesticity and intra-racial reproduction as well as climatic idioms born of the centuries-long development of the plantation economies in the Americas. 
I have also published articles on fugitive slave narratives, women's antislavery activism, and self-emancipated people in Canada, all set in transatlantic settings, and on the intersectional articulations of race, gender, and class among white and African Americans in the context of U.S. expansion into Japan. 
Education
PhD, University of Wisconsin-Madison, Gender and Women's History Program, 2010
Grants
Summer Stipend, National Endowment for the Humanities, 2020  
Franklin Research Grant, American Philosophical Society, 2020
Courses Taught
HIST171 U.S. History to 1877
HIST285 U.S. Gender History to 1877
HIST316 Global Histories of Gender                                                  HIST317 Birth of U.S.Empire                                                              
Additional Campus Affiliations
Gender and Women's Studies
Center for East Asian and Pacific Studies
Honors & Awards
Conrad Humanities Scholar, 2021-2026
Lincoln Excellence for Assistant Professors Award, 2016-18
New Faculty Fellowship, American Council of Learned Societies, 2012-13
Recent Publications
BOOK
Tropical Freedom: Climate, Settler Colonialism, and Black Exclusion in the Age of Emancipation. Durham: Duke University Press, 2017
 JOURNAL ARTICLES
"Lucretia Mott and the Underground Railroad: The Transatlantic World of a Radical American Woman." Journal of the Early Republic Volume 38, no 4 (Winter 2018): 613-642
"Different Tales of John Glasgow: John Brown's Evolution to Slave Life in Georgia." Journal of Black Studies 49, no. 3 (April 2018): 212-234
"'Colored Men of the East': African Americans and the Instability of Race in US-Japan Relations." American Quarterly 66, no. 4 (December 2014): 971-997    
"'Our Brethren in the West Indies': Self Emancipated People in Canada and the Antebellum Politics of Diaspora and Empire." Journal of African American History 97, no.3 (Summer 2012): 219-239   
BOOK CONTRIBUTIONS
"African-American Migration and the Climatic Language of Anglophone Settler Colonialism." In Crossing Empires: Taking U.S. History into Transimperial Terrain, edited by Kristin Hoganson and Jay Sexton. Durham: Duke University Press, 2020.  
"Exiles in America: Canadian Anti-Black Racism and the Meaning of Nation in the Age of the 1848 Revolutions." In Race and Nation in the Age of Emancipations, ed. Whitney Nell Stewart and John Garrison Marks, 53-68. Athens: University of Georgia Press, 2018.
ONLINE PUBLICATIONS
H-Diplo Roundtable XXII-8, "A Teaching Roundtable on Teaching Colonialism in History" (October 14, 2020)