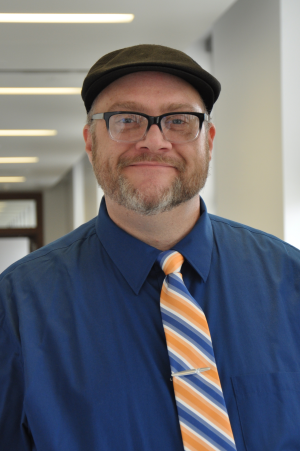 Contact Information
309 Gregory Hall
810 S Wright
M/C 466
Urbana, IL 61801
Office Hours
on fellowship for the 2019/2020 academic year
Biography
I am a Ph.D. student at the University of Illinois - Urbana/Champaign with a focus on 20th century LGBTQ Youth rights. My masters thesis (completed in May of 2015 at Western Michigan University) is titled Fighting for Inclusion: The Origins of Gay Liberation at the University of Michigan. I explore the ways in which a gay and lesbian community sought to create institutional acceptance in the early 1970s.
I am interested in how LGBTQ youth have constructed identities and navigated queer spaces in response to oppression, repression, and marginalization, and the acts of resistance that they actively engaged in, both individually and collectively.  My upcoming dissertation will explore the activism and resistance of LGBTQ high school students during the post-World War II period, with an emphasis on the various ways they were excluded from social, cultural, and political spaces.
Prior to pursuing my college education, I held a variety of positions in marketing, communications, public relations, and sales. The majority of my career was spent in the music industry, mainly as an in-house talent buyer for national and regional entertainment.
Research Interests
LGBTQ Social and Political Movements
LGBTQ Youth Organizing
Modern U.S. History
Women, Gender, & Sexuality
US and the World
Research Description
I am currently interested in LGBTQ activism, resistance, and oppression in middle and high school students between 1965 and 1990.
Education
Bachelor of Science, History, Central Michigan University
Master of Arts, History, Western Michigan University
Grants
History Department Summer Pre-Dissertation Research Travel Grant, University of Illinois 
The Sallie Bingham Center for Women's History Travel Grant, Duke University 
The Virginia Karnes Archives and Special Collections Travel Grant, Purdue University
The Bordin-Gillette Fellowship, Bentley Historical Library
ONE Archives Foundation LGBTQ Research Fellowship, University of Southern California
Don Kelly Research Collection Grant, Texas A&M
The Elmer L. Anderson Research Scholarship, University of Minnesota
Awards and Honors
College of Liberal Arts & Sciences Award for Excellence in Undergraduate Teaching by a Graduate Teaching Assistant (University of Illinois)
List of Teachers Ranked as Excellent and Outstanding based on ICES Scores, Fall 2016, Spring 2017, Fall 2017, Fall 2018 (University of Illinois)
2019 John G. and Evelyn Hartman Heiligenstein Award for Excellence in Undergraduate Teaching (University of Illinois)
Courses Taught
HIST200: Intro to Historical Interpretation, "A Queer United States" (Instructor)
HIST101: History Now, LGBT Civil Rights from the Streets to the Supreme Court (Instructor)
HIST203: Reacting to the Past: US Riots, Revolutions, and Revolts (Instructor)
HIST171: US History to 1877 (Teaching Assistant)
HIST172: US History Since 1877 (Teaching Assistant)