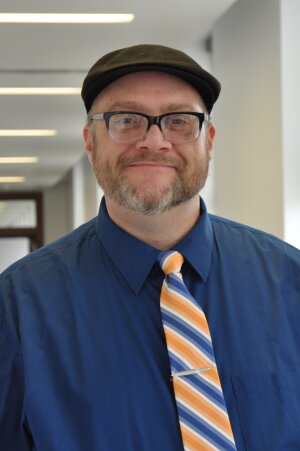 Contact Information
Office: 446G Gregory Hall

Mailing:
309 Gregory Hall
810 S Wright
M/C 466
Urbana, IL 61801
Office Hours
Spring 2023: On fellowship, by appointment
PhD Candidate
Instructor of Record
Biography
As a social historian of modern U.S. history, I work at the intersection of sexuality, social protest movements, and youth culture.  My research and teaching draw from multiple fields, including African American history, LGBTQ history, public history, urban history, women's and gender studies, and masculinity studies
My dissertation, All We Want to Do Is Love:  LGBTQ Youth Organizing and Sexual Self Determination in the United States, 1970 to 1990, examines the earliest known gay and lesbian youth groups in the United States and their fight for societal acceptance.  My research intervenes in the historical narrative of the modern gay and lesbian rights movement by focusing on the youthful activists and organizers who have typically been either overlooked or treated as tertiary actors in the movement's struggles.  Specifically, I focus on three organizations – Gay Youth of New York, Youth Liberation of Ann Arbor, and the Boston Alliance for Gay and Lesbian Youth – to trace their formation, actions, successes, and failures, all revealing a contoured history of youth-led protest.  Using archival sources, mainstream and alternative press, and oral interviews, I argue that these peer-led youth groups were instrumental to the overall gay and lesbian rights movement after the Stonewall Rebellion, providing templates of protest and organization for other youth groups nationwide.  My work also contributes to recent scholarship emphasizing age as a category of analysis.  By placing gay and lesbian teenagers at the center of the story, I legitimize their political and sexual agency against the backdrop of the liberatory 1970s and the conservative backlash of the 1980s.
My masters thesis (completed in May of 2015 at Western Michigan University) is titled "Fighting for Inclusion: The Origins of Gay Liberation at the University of Michigan." I explore the ways in which Ann Arbor's gay and lesbian community sought to create institutional acceptance in the early 1970s.
Prior to pursuing my college education, I held a variety of positions in marketing, communications, public relations, and sales. I spent the majority of my career in the music industry, mainly as an in-house talent buyer for national and regional entertainment and as a morning show host on 92.1 The Edge (East Lansing, MI).
Research Interests
LGBTQ Social and Political Movements
LGBTQ Youth Organizing
Modern U.S. History
Women, Gender, & Sexuality
US and the World
Research Description
My dissertation is titled "All We Want to Do is Love:  LGBT Youth Organizing and Sexual Self Determination in the United States, 1970-1995."
Education
Master of Arts, History, Western Michigan University (2015)
Bachelor of Science, History, Central Michigan University (2012)
Grants
ONE Archives Foundation LGBTQ Research Fellowship, University of Southern California
Don Kelly Research Collection Grant, Texas A&M
The Sallie Bingham Center for Women's History Travel Grant, Duke University 
The Virginia Karnes Archives and Special Collections Travel Grant, Purdue University
The Bordin-Gillette Fellowship, Bentley Historical Library
The Elmer L. Anderson Research Scholarship, University of Minnesota
History Department Summer Pre-Dissertation Research Travel Grant, University of Illinois 
Graduate College Dissertation Travel Grant, University of Illinois
Awards and Honors
2022 Widenor Teaching Fellow, Dept. of History (University of Illinois)
2019 College of Liberal Arts & Sciences Award for Excellence in Undergraduate Teaching by a Graduate Teaching Assistant (University of Illinois)

2019 John G. and Evelyn Hartman Heiligenstein Award for Excellence in Undergraduate Teaching (University of Illinois)
List of Teachers Ranked as Excellent based on ICES Scores, Fall 2016, Spring 2017, Fall 2017, Fall 2018, Spring 2019, Fall 2020, Spring 2021 (University of Illinois)
Graduate Teacher Certificate, Center for Innovation in Learning & Teaching, (University of Illinois)
 
Courses Taught
Instructor of Record
HIST101: History Now, LGBT Civil Rights from the Streets to the Supreme Court (Spring 2018)
HIST200: Intro to Historical Interpretation, "A Queer United States" (Spring 2022)
HIST203: Reacting to the Past: "US Riots, Revolutions, and Revolts" (Fall 2016, Fall 2020, Fall 2021)
HIST273:  Illinois History (Summer 2021, 2022)
HIST392:  The 1960s in the United States (Fall 2022)
HIST498:  Capstone Writing & Research Seminar:  "A Queer United States" (Spring 2022) 

Teaching Assistant
HIST104:  Black Music (Spring 2019)
HIST171: US History to 1877 (Fall 2015)
HIST172: US History Since 1877 (Spring 2016)
HIST281:  Constructing Race in America (Spring 2021)