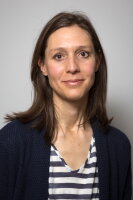 Contact Information
309 Gregory Hall
810 S. Wright Street
Urbana, IL 61801


Biography
Claudia Brosseder is Associate professor of colonial Latin American history at the University of Illinois. Brosseder's research focuses on the indigenous world of colonial Peru, as well as on the intellectual history of colonial Peru in a transatlantic setting. She is particularly interested in reconstructing the colonial Andean world from the vantage point of the Andean people. Over the course of her studies Brosseder has gained expertise in two  distinct areas of scholarship: the intellectual history of early modern Europe and the history of the colonial Andes.
She has authored the book: The Power of Huacas. Change and Resistance in the Andean World of colonial Peru (Austin: University of Texas Press, 2014), which won the 2015 Award for Excellence in the Study of Religion in the category of Historical Studies by the American Academy of Religion. Her first book Im Bann der Sterne. Caspar Peucer, Philipp Melanchthon und andere Wittenberger Astrologen (Berlin: Akademie Verlag, 2004), is a study of the role of astrology among sixteenth century Protestants.
Research Interests
native Andean history, colonial history in Peru, intellectual history, chroniclers, history of religion, intellectual history in the early modern transatlantic world
Education
Ph.D.: Munich University, Habilitation: Munich University
Additional Campus Affiliations
Associate Professor, Center for Latin American and Caribbean Studies

Recent Publications
Brosseder, C. R. (2019). Unsettling and Unsettled Readings: Occult Scripts in 16th-Century Lima and the Challenges of Andean Knowledge. In E. A. Engel (Ed.), A Companion to Early Modern Lima (pp. 275-309). (Brill's Companions to the Americas; Vol. 2). Brill. https://doi.org/10.1163/9789004335363_014
Brosseder, C. R. (2018). El Poder de la Huacas: Cambios y resistencia en los andes del Perú colonial. Ediciones El Lector.
Brosseder, C. (2018). Secularizing the Andes: The Effects of Transcultural Processes on Colonial Andean Rituals. In I. G. Županov, & P. A. Fabre (Eds.), The Rites Controversies in the Early Modern World (pp. 301-321). (Studies in Christian Mission; Vol. 53). Brill. https://doi.org/10.1163/9789004366299_013
Brosseder, C. (2018). The conquest of the Andes from Andean perspectives. In The Andean World (pp. 161-174). Taylor and Francis. https://doi.org/10.4324/9781315621715
Brosseder, C. R. (2017). To Make Christianity Fit: The Process of Christianization from an Andean Perspective. In D. Tavárez (Ed.), Words and Worlds Turned Around: Indigenous Christianities in Colonial Latin America (pp. 220-241). University Press of Colorado. https://muse.jhu.edu/chapter/2052951