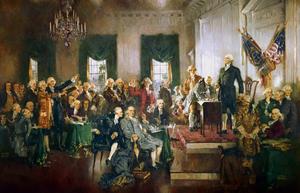 Reacting to the Past (RTTP) consists of elaborate games, set in the past, in which students are assigned roles informed by classic texts in the history of ideas. Class sessions are run entirely by students; instructors advise and guide students and grade their oral and written work. It seeks to draw students into the past, promote engagement with big ideas, and improve intellectual and academic skills.
Pioneered in the late 1990s by Mark C. Carnes, Professor of History at Barnard College, the RTTP curriculum has been implemented by faculty at hundreds colleges and universities in the U.S. and abroad since dissemination began in 2001.
All of the games are set in the past, and thus might be regarded as history, but each game also explores multiple additional disciplines. Part of the intellectual appeal of RTTP is that it transcends disciplinary structures. In addition to games currently published in the RTTP Series by W. W. Norton, we seek to expand the curriculum by supporting faculty workshops and collaboration on new game designs that explore a variety of historical moments in the humanities and sciences.