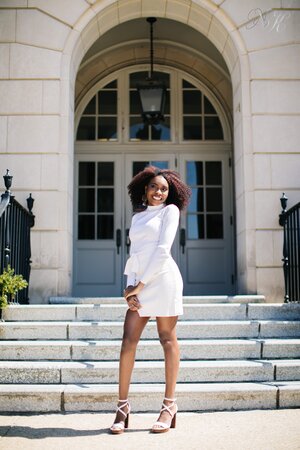 Taylor is completing double majors in History and Gender and Women's Studies. She is a member of the LAS James Scholar Program. Taylor's superlative academic record, and her commitment to service, have earned her the Department of History Michael R. Scher Award for Outstanding Undergraduate Paper, Friends of History Distinguished Service to the History Department Award, and the Watler N. Breymann Scholarship, among other honors!
Taylor is the Founder and President of the Society of Minority Students in History, an organization that strives to support current racial, ethnic, and LGBTQ+ students at the University of Illinois who are studying History as well as encourage other racial, ethnic, and LGBTQ+ students to pursue a major or minor in History. Taylor served as Academic Committee and Fundraising Committee Chair in Phi Alpha Theta-Epsilon. She has featured as a panelist in "The State of Womxn" series organized by the University of Illinois Women's Resources Center and serves on the Center's Advisory Committee.
Taylor has interned at Women Employed and at the Chicago Foundation for Women. She has worked on public outreach, social media, and event development for the GWS and History Department and writes biweekly blog posts for the Office of Undergraduate Admissions.
Taylor intends to pursue her study of history after graduation: She plan to start the history doctoral program at the University of Illinois at Chicago in Fall 2021!