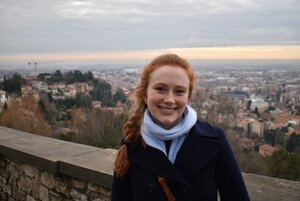 Sarah is graduating with double majors in History and Earth, Society and Environmental Sustainability (ESES). Sarah is a James Scholar and has worked as a research assistant and undergraduate research intern at the Humanities Research Institute at Illinois. Among her various responsibilities, she assisted Prof. Morrissey of the History Department with designing HIST 202: American Environmental History. 
In Summer 2019, Sarah interned at the National Museum of American History in Washington. Sarah is Vice-Chair of the Student Sustainability Committee and editor of Q Magazine, a student environmental magazine published by the University of Illinois Institute for Sustainability, Energy and Environment. She is also a member and former officer in Phi Alpha Theta-Epsilon, the Illinois chapter of the national history honors society and history club.  During her time at Illinois, Sarah was lucky enough to study abroad twice:  once for a semester at the University of York in the UK and a second time for a two-week trip to Pavia in northern Italy through the LAS Honors program.
Sarah would like you to let you all to know that the sycamore in front of Gregory Hall is estimated to be older than the United States itself!