Emeritus Professor Winton Solberg has been one of three awarded the highest campus honor.  The Chancellor's Medallion has only been awarded six times since it was first presented in 1999.  Ellen Swain, the Stewart S. Howe Student Life and Culture Archivist, noted  "Winton Solberg is the authority on University of Illinois history.  Archives staff, scholars, students, administrators and the general public consult his histories on a daily basis."
Winton taught in the History Department for 31 years, beginning in 1961.  At one time he had considered becoming a lawyer but after fighting in Europe during World War II he realized his passion for understanding why these world changing events happen and went on to study history.
In his own words Winton has said the research and writing about the university has shaped his life.  He enjoys his work and believes it serves a useful purpose to point out triumphs and failures of the the University of Illinois.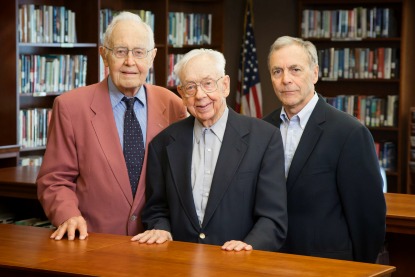 He, along with Maynard Brichford and William Maher, will be honored for his service and dedication to the University on Wednesday, June 28, 2017 at 1 pm in the Reading Room of the Main Library.  Please register here if you would like to attend.
Directory
tsantan2
Thais
Rezende Da Silva De Sant'ana