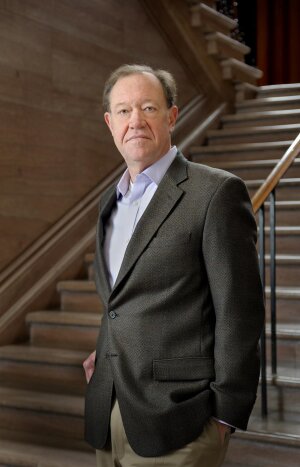 Contact Information
309 Gregory Hall, MC-466
810 S. Wright St.
Research Description
Trained as a social and political historian, I have focused most of my research on the history of indigenous peoples in North America and their relations with European settlers and their governments.  I came to Illinois from the Newberry Library where I served for fifteen years, first as Director of the D'Acry McNickle Center for American Indian History and later as Vice President for Research and Education.  At the Newberry I developed programs for scholars, students and teachers that promoted the study of the Native American past and administered an internationally-acclaimed fellowship program for scholars in all fields.  These programs were supported by the Ford, Mellon and Rockefeller foundations, the National Science Foundation, and the National Endowment for the Humanities.  At Illinois I teach courses in Native American history as well as other offerings for graduate and undergraduate students.  I have taught at Antioch College adn Northwestern University and am the recipient of honorary degrees from Amherst College (1994) and Long Island University (2000). In 2013 I was elected to the American Academy of Arts and Sciences.
Throughout my career I have also maintained a role as a public historian. I have been a consultant and expert witness for the U.S. Department of Justice, the U.S. Senate Committee on Indian Affairs, the National Congress of American Indians and the National Park Service.  I have also been President of the American Society for Ethnohistory and a member of the Executive Council of the Organization of American Historians.  I have served on the governing boards of Amherst College and the Illinois Humanities Council and was a founding trustee of the Smithsonian Institution's National Museum of the American Indian. My research has been supported by fellowships from the Rockefeller and Mellon Foundations, the National Endowment for the Humanities, and the Huntington Library.
Education
B.A. Amherst College
Ph.D. Brandeis University
Additional Campus Affiliations
Swanlund Professor - American Indian Studies
Highlighted Publications
JOURNAL ARTICLES
"Denouncing America's Destiny: Sarah Winnemucca's Assault on U.S. Expansion". Cultural and Social History, vol. 9, no. 4, 2012, p. 549-567.
"Retrieving the Red Continent: Settler Colonialism and the History of American Indians in the U.S.." Ethnic and Racial Studies, vol. 31, no. 6, 2008, p. 1153-1167.
"What Was Taney Thinking? American Indian Citizenship in the Era of Dred Scott." Chicago-Kent Law Review, vol. 82, no. 1, 2007, p. 329-359.
Hoxie, Frederick E "Thinking like an indian": Exploring American Indian views of American history." Reviews In American History, vol. 29, no. 1, 2001, p. 1-14.
"Ethnohistory for a Tribal World." Ethnohistory, vol. 44, no. 4, 1997, p. 595-615.
"Exploring A Cultural Borderland: Native American Journeys of Discovery in the Early Twentieth Century." Journal of American History, vol. 79, no. 3, 1992, p. 969-990.
"Searching for Structure: Reconstructing Crow Family Life in the Reservation Era." American Indian Quarterly, vol. 15, no. 3, 1991, p. 287-309.
"The View From Eagle Butte: National Archives Field Branches and the Writing of American Indian History." Journal of American History, vol. 76, no. 1, 1989, p. 171-180.
BOOKS
This Indian Country: American Indian Activists and the Place They Made. New York: Penguin USA, 2012.
Hoxie, Frederick E, and Jay T. Nelson. Lewis and Clark and the Indian Country. Urbana: University of Illinois Press, 2007.
Hoxie, Frederick E, R. David Edmunds, and Neal Salisbury. The People: A History of Native America. Boston: Houghton Mifflin 2007.
Talking Back to Civilization: Indian Voices From the Progressive Era. Boston: Bedford, 2001.
Hoxie, Frederick E, and Peter Iverson. Indians in American History; An Introduction. Arlington Heights, IL: Harlan Davidson, 1997.
Encyclopedia of North American Indians. Boston: Houghton Mifflin, 1996.
Parading Through History: The Making of the Crow Nation in America, 1805-1935. New York: Cambridge University Press, 1995.
A Final Promise: The Campaign to Assimilate the Indians, 1880-1920. Lincoln: University of Nebraska Press, 1984.
BOOK CONTRIBUTIONS
"A World of Fragments: American Life in the 1840s." Charles Deas and 1840s America, Norman: University of Oklahoma Press, 2009, p. 55-69.
"The Reservation Period, 1880-1960." The Cambridge History of the Native Peoples of the Americas, North America, New York: Cambridge University Press, 1995, p. 183-258.
"Traditional Peoples in Modern North America." The Illustrated Encyclopedia of Humankind, Sydne:y Weldon Owen, 1994, p. 169-192.
"Why Treaties?" Buried Roots and Indestructible Seeds, edited by Mark Lindquist. Madison: University of Wisconsin Press, 1993, p. 3-34.