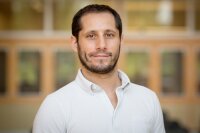 Contact Information
446E Gregory Hall
810 S. Wright Street
Urbana, IL 61801


Biography
I study the history of Brazil and Latin America with special interest in race, culture, slavery, labor, and gender.  My first book, Making Samba: A New History of Race and Music in Brazil, was published by Duke University Press in 2013 and awarded Honorable Mention for the Bryce Wood Book Prize (Latin American Studies Association) and the Woody Guthrie Award (International Association for the Study of Popular Music).
In 2020, I published a short book about Gilberto Gil's album Refazenda with Bloomsbury's 33 1/3 Series.
Currently, I am working on a scholarly monograph about the meanings attached to Zumbi, the iconic leader of Palmares, Brazil's famed fugitive slave community, who died in 1695.  Bridging Brazilian, African Diaspora, and Environmental History, the project weaves interrelated narratives about slavery, land, Zumbi's death, and the aftermath of Palmares across three centuries of history.  An early meditation on the project,  published in 2017 in the American Historical Review, won the Vanderwood and Kimberly S. Hanger article prizes. 
My work has also appeared in Hispanic American Historical Review, Luso-Brazilian Review, A Contracorriente, Journal of Latin American Studies, and edited volumes published in the U.S. and Brazil.
I have also written for online venues, including New York Magazine, RebootIllinois, Notches, and others, and have  appeared on Al-Jazeera to provide commentary and news analysis about Brazil.
Before coming to Illinois I was Andrew W. Mellon Postdoctoral Fellow in Latin American Studies at Wesleyan University and then Assistant Professor of Latin American Cultural Studies and Director of the Center for Brazilian Studies at Columbia University.  
I am currently on leave.
Education
B.A. Washington University (MO) (Magna Cum Laude, 2000); Ph.D., University of Wisconsin-Madison (2008)
Awards and Honors
Conrad Humanities Scholar (2017-2022)
Vanderwood Prize for "Fatal Differences" (2018)
Kimberly S. Hanger Article Prize for "Fatal Differences" (2018)
Honorable Mention, Bryce Wood Book Prize for Making Samba (2014)
Honorable Mention, Woody Guthrie Award for Making Samba (2014)
New England Council of Latin American Studies Best Dissertation Prize (2009)
Fulbright-Hays (2004)
Additional Campus Affiliations
Associate Professor, Unit for Criticism and Interpretive Theory
Associate Professor, Spanish and Portuguese

External Links
Recent Publications
Hertzman, M. A. (2020). Gilberto Gil's Refazenda. (33 1/3 Brazil). Bloomsbury Academic Press. https://doi.org/10.5040/9781501330445
Hertzman, M. A. (2019). Brincando de índio... e muito mais: atravessando espaço (e tempo) com os Oito Batutas, dentro e fora da cidade. In A. Barone, & F. Rios (Eds.), Negros nas cidades brasileiros (1890-1950) (pp. 333-357). Intermeios.
Hertzman, M. A. (2019). Diferenças fatais: suicídio, raça e trabalho forçado nas Américas. Mundos do Trabalho, 11, 1-38. https://periodicos.ufsc.br/index.php/mundosdotrabalho/article/view/1984-9222.2019.e67255
Hertzman, M. A. (2019). Fake News, Fake History? A Racist Judge Takes on Zumbi. Z Cultural, Z, 1-7. http://revistazcultural.pacc.ufrj.br/fake-news-fake-history-a-racist-judge-takes-on-zumbi/
Hertzman, M. A. (2018). Prefácio: Nos labirintos da música: estudos interdisciplinares, história, nação, tradição. In D. C. de Fernandes (Ed.), Sentinelas da Tradição: A Constituição da Autenticidade no Samba e no Choro (pp. 11-18). Edusp.