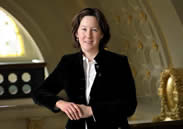 Greetings, Fellow Historians,
History at Illinois sets its sights high: our goal is to foster critical understanding of our collective past and to instill our passion and curiosity in future generations.
Faculty in our department focus on a truly astounding array of questions. They study human interaction with the environment in pre-colonial America, early modern Japan and 20th century Bangladesh; they tell us about shifting notions of death, debt and darkness; and they investigate the emergence and evolution of racism, inequality, and imperialism in the United States and across the globe. (And that is just a small sample of the research conducted by our faculty and graduate students!)
Our undergraduate students have gone on to amazing careers, as educators, lawyers, entrepreneurs, scientists, activists, journalists, and a host of other occupations. Our Ph.D.s are employed at institutions of higher learning around the country. All of our students gain impressive skills in locating and analyzing complex documents and in expressing their ideas with eloquence and conviction. They become the engaged and informed citizens so vital to our future.
We are delighted to welcome you to History at Illinois, whether for a one-time class, as a History major, Ph.D. student, lecture or workshop participant, friend of the Department, or in whatever form your engagement with the department takes. Follow us on Facebook or Twitter for more information!
Clare H. Crowston
Professor and Chair