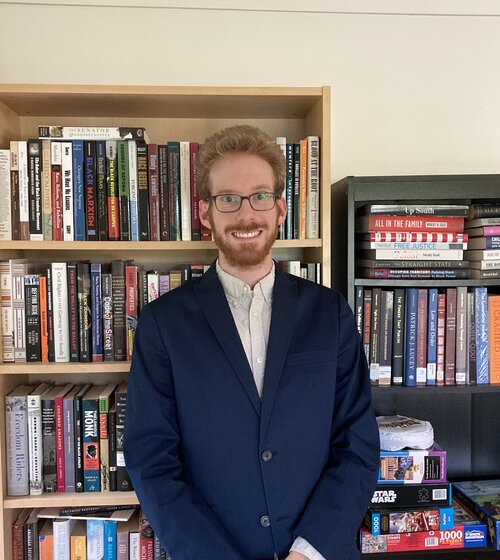 Contact Information
309 Gregory Hall
810 S. Wright Street
M/C 466
Urbana, IL 61801
Biography
I am a Ph.D. candidate at the University of Illinois at Urbana-Champaign studying modern conservatism and the carceral state in the Global Midwest. My dissertation, tentatively titled, "Laboratory of Austerity: Mass Incarceration and Politics in the Rust Belt, 1945-2000," examines how policymakers, politicians, and voters forged the modern carceral state in Wisconsin.
Research Interests
U.S. Political History
History of Modern Conservatism
History of Capitalism
Urban History
The Carceral State
Research Description
My research connects the "right turn" in U.S. politics and public policy with the growth of mass incarceration during the second half of the twentieth century. I am interested in how the political economy of mass incarceration influenced deindustrialization and electoral politics in the United States.
My dissertation asks us to reconsider the relationship between political economy, electoral politics, and mass incarceration. I focus on the state of Wisconsin and particularly its' suburbs because they serve as a useful microcosm to understand our contemporary politics and culture. Through the dissertation I show that the rise of the modern carceral state was not the inevitable outcome of deindustrialization or modern conservatism. Rather the growth of mass incarceration represented a series of economic and political choices that Midwesterners made from 1945 through 2000.
Education
M.A. - University of Illinois at Urbana-Champaign, 2018
B.A. - American University, 2013
Certificate in Advanced Leadership Studies - American University, 2013
Grants
Departmental Fellowship, History Department, University of Illinois at Urbana-Champaign, Spring 2018
Departmental Fellowship, History Department, University of Illinois at Urbana-Champaign, 2016
Research Travel Grant, Gerald R. Ford Presidential Library, 2015
Pre-Dissertation Travel Grant, History Department, University of Illinois at Urbana-Champaign, 2015
Departmental Fellowship, History Department, University of Illinois at Urbana-Champaign, 2013
Awards and Honors
Widenor Teaching Fellow, Fall 2017
Courses Taught
Widenor Teaching Fellow, History of Modern Conservatism in the Global Midwest, University of Illinois at Urbana-Champaign, Fall 2017
Instructor, Illinois History, University of Illinois at Urbana-Champaign, Summer 2017
Instructor, Technology and Western Society, University of Illinois at Urbana-Champaign, Spring 2016
Instructor, U.S. and the World Since 1917, University of Illinois at Urbana-Champaign, Fall 2015