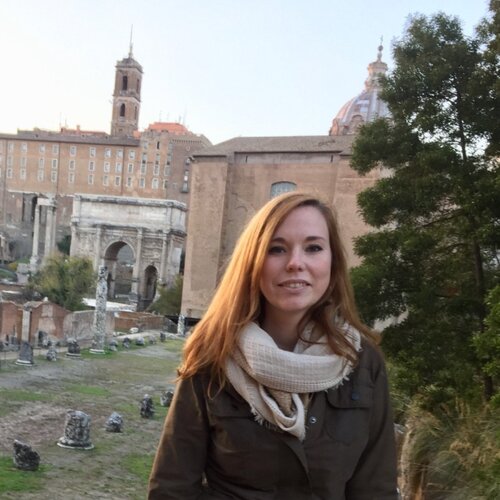 Contact Information
309 Gregory Hall
810 S. Wright St.
M/C 466
Urbana, IL 61801
Biography
I am a doctoral candidate in History at the University of Illinois, studying religion, ethnicity, and migration in the early modern Atlantic world.
I am also the Assistant Director of Operations of Humanities Without Walls, an Andrew W. Mellon Foundation-funded initiative supporting interdisciplinary research and career diversity for graduate students in the humanities. 
Research Interests
Religion, migration, and ethnicity in early modern Europe and the Atlantic world
Collaborative research, public engagement, and career diversity in the humanities
Research Description
My dissertation project, "Refugees to Settlers: 'Palatines' in the Early Modern Atlantic World," looks at the German Palatine migrations of the early eighteenth century.
In 1709, some 13,000 refugees from war, famine, extreme climate events, and religious strife traveled down the Rhine and across the English Channel to London. The sudden appearance of so many "poor Protestant Palatines" completely overwhelmed the ability of the English to provide them with charity or employment, and threw into sharp relief questions of religious conformity, immigration, and labor in Britain.
Upon their arrival in London, Palatine refugees were initially viewed as poor, lazy, and diseased strangers who as dissenting Protestants also threatened the stability of religious life in England. Over a short period of time and in the context of empire, however, they came to be seen as industrious, respectable Protestant settlers who were capable of reforming the reprobate populations among whom they were settled (i.e. Irish Catholics, native Americans, and Caribbean pirates). In closely examining the experience of Palatines in the British Isles, North America, and the Caribbean in the early eighteenth century, this project seeks to trace the changing significance of such categories of difference as religion, race, and ethnicity in the early modern era.
Education
M.Phil in Early Modern British Isles History - Trinity College Dublin, 2011
B.A. in History, Spanish - Transylvania University, 2009
Grants
INTERSECT "Cultures of Law in Global Contexts" Fellowship, 2016
Quadrangle Historical Research Foundation German Script Course Award, 2014
Awards and Honors
William C. Widenor Teaching Award, 2018
University of Illinois Graduate College Dissertation Travel Grant, 2018
Instructor Ranked as Excellent, Center for Innovation in Teaching and Learning, 2015, 2018
Courses Taught
HIST 352: Europe in the World: (Instructor of Record)
HIST 100: Global History (Teaching Assistant, Prof. Antoinette Burton)
HIST 141: Western Civilization I (Teaching Assistant, Prof. Clare Crowston)
Highlighted Publications
JOURNAL ARTICLES
Brennan, Margaret Lenore Clergy in the Early Modern Caribbean, 1650-1800 History Compass 2019.
BOOK CONTRIBUTIONS
Problematizing Graduate Student Encounters of Engagement across the Public-Academic Divide Mission Driven: Reimagining Graduate Education for a Thriving Humanities Ecosystem 2019.