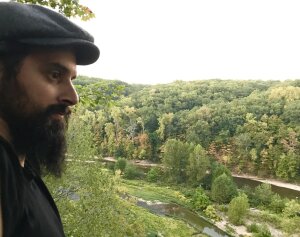 Contact Information
309 Gregory Hall
810 S Wright
M/C 466
Urbana, IL 61801
Biography
Billy Keniston wishes he was born
            in a different place,
                        in a different time.
not any specific country,
                        or any specific era.
                  just not here,
                                       and not now.
By the time I was old enough
                        to understand my 'people'
                                             and my society...
I knew that
I didn't want to be a part of many of the things
that they believe in and do.
Research Interests
Whiteness; (Anti-)Apartheid; Slavery & Emancipation; Colonialism & Decolonization; Communism & Anti-Communism; Repression, Racial Violence... Resistance & Radical Thought
Research Description
In seeking to understand the rationality behind the violence of apartheid, my desire is not to lessen the well-deserved condemnation of the system. Rather, my concern is to offer a deeper understanding of the mechanisms of state repression - whether this took the form of batons, bombs or books - so that we might finally liberate ourselves from them.
External Links
Highlighted Publications
BOOKS
Choosing to Be Free: The Life Story of Rick Turner Johannesburg Jacana 2013.
SPECIAL ISSUES OF A JOURNAL
The Weight of Absence: Rick Turner and the End of the Durban Moment Turner and His Times Theoria 64 151 2017. Online Edition.