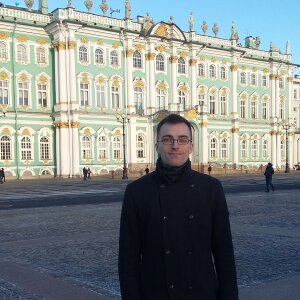 Contact Information
309 Gregory Hall
810 S Wright
M/C 466
Urbana, IL 61801
Biography
I am a doctoral candidate at the University of Illinois, Urbana-Champaign, studying Russian history. I am originally from Canada and completed my BA (double majoring in History and Political Science) and MA (in European, Russian, and Eurasian Studies) at the University of Toronto. Both at the University of Toronto and at UIUC, my broadest interest has been in the study of historical poverty and inequality, particularly in Russian cities.
Prior to coming to Illinois in 2015, I also worked for several years as an Information and Privacy Analyst at the Archives of Ontario in Toronto, Canada.
Research Interests
Imperial Russia
Newspapers
Poverty and Inequality
Urban history
Research Description
Broadly speaking, my research focuses on issues of urban poverty and inequality in the late Russian Empire, particularly in Russia's rapidly-growing cities.
My dissertation focuses on the Imperial Russian penny press (1908-18). These newspapers were the first to target Russia's poor and lower classes as their primary audience, and reached large numbers of readers across the Russian Empire in the decade immediately preceding the Russian Revolution of 1917. My dissertation will explore how and why these newspapers were so widespread, successful, and popular, and their influence on the attitudes and behaviour of Russia's lower classes.
Education
BA, University of Toronto, 2013
MA, University of Toronto, 2015
Grants
Social Sciences and Humanities Research Council of Canada (SSHRC) Graduate Scholarship, 2014-15
Awards and Honors
Nina Baym Dissertation Completion Fellowship, Graduate College, University of Illinois, 2021-22
ASEEES Summer Dissertation Writing Grant, 2021
ABD Research Fellowship, Department of History, University of Illinois, 2018-19
Frederick S. Rodkey Memorial Prize for Most Promising Graduate Student in Russian History, University of Illinois, 2018
History Department Summer Pre-Dissertation Research Travel Grant, University of Illinois, 2017
Yaro Skalnik Prize for Best Graduate Essay, REEEC, University of Illinois, 2017
AGHS-Past Tense Best Paper Award, 2016
University of Illinois Distinguished Fellowship, 2015-16, 2016-17, 2019-20
Courses Taught
HIST 259: Global History of the Cold War (Fall 2020, Spring 2021)
Highlighted Publications
JOURNAL ARTICLES
Cowan, Felix. "Hidden Lives: Uncovering Gender Non-conformity in the Russian Press, 1911-1914." Canadian-American Slavic Studies 56, no. 1 (2022): 33-56. Link to article
Cowan, Felix. "The Democracy Versus Democracy: Representation and Politics in Odessa During the 1912 State Duma Election." Revolutionary Russia 33, no. 2 (2020): 172-196. Link to article
Cowan, Felix. "Popular Liberalism: Vladimir Anzimirov and the Influence of Imperial Russia's Penny Press." Past Tense: Graduate Review of History vol. 5, no. 1 (2017): 8-28. Link to article
ONLINE PUBLICATIONS
Cowan, Felix. "Emotional Accessibility: Illustrations and Editorial Cartoons in Late Imperial Russia's 'Kopeck Press'." All the Russias' Blog, NYU Jordan Center for the Advanced Study of Russia, 3 February 2022. Link to article