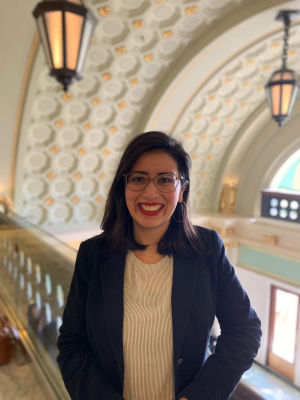 Contact Information
309 Gregory Hall
810 S. Wright Street
M/C 466
Urbana, IL 61801
Research Interests
Modern U.S. History
Modern Latin American History
Immigration History
Urban History
Latina/Latino Studies
Research Description
A product of archival research across the United States and Mexico, my dissertation traces the history of guanajuatense  migration to the U.S. throughout the twentieth-century. It argues that even though much has been written about Mexican migration, there is still surprisingly little known about how its history looks from and in sending communities. By beginning the story in early twentieth-century Guanajuato, one of Mexico's most prolific--but often overlooked--sending states, my work illuminates previously ignored long-term push factors of mass migration. The project's focus on the lived experiences of migrants whose transborder histories extend far beyond the singular focus of their arrival in the U.S. deepens scholar's and the broader public's understandings of the ways in which the local and regional shaped the migrant journey.
Education
B.A. History and Political Science, University of Wisconsin-Madison, 2013
Awards and Honors
Western History Association Graduate Student Prize, 2019
Courses Taught
Teaching Assistant, History 172: United States History Since 1877
Teaching Assistant, History 173: United States History Since 1877-Advanced Composition
Highlighted Publications
Parcels: Memories of Salvadoran Migration by Mike Anastario Canadian Journal of Latin American and Caribbean Studies (Forthcoming) 2019.
Grounds for Dreaming: Mexican Americans, Mexican Immigrants, and the California Farmworker Movement by Lori A. Flores Diálogo Journal 19 2 2016, p. 139-141.