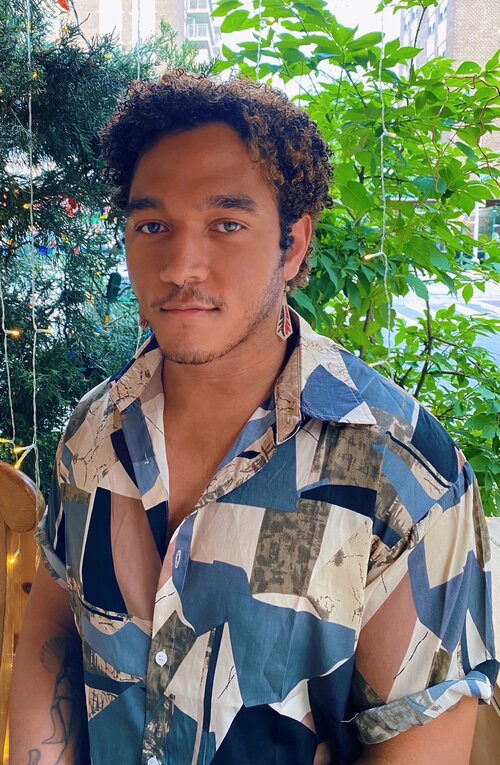 Contact Information
309 Gregory Hall
810 S Wright
M/C 466
Urbana, IL 61801
Biography
Morgan L. Ridgway is an interdisciplinary scholar and artist from Philadelphia, PA. Their research focuses on multitribal communities in Philadelphia, performance and gathering as decolonial strategies, and queer Indigenous theory. Currently, they are a PhD candidate with graduate minors in American Indian Studies and Queer Studies. Prior to moving to Illinois, Morgan received their dual B.A. in Psychology and Gender and Sexuality Studies from Swarthmore College. In addition to their scholarly pursuits, Morgan works to find points of connection between poetry, creative nonfiction, dance, mixed media, and archives in order to uncover new modalities of history telling.
Research Interests
Native American and Indigenous Studies
Queer Studies
Women, Gender, and Sexuality
Modern U.S. History
Race and Ethnicity
Performance Studies
Research Description
Morgan L. Ridgway specializes in twentieth century U.S. history with an emphasis on the Indigenous Mid-Atlantic/Lenapehoking. Their dissertation explores the affective and embodied dimensions of Indigenous community development within Philadelphia and the role of gathering in refusing the pastness assigned Native people by settler ideas of the future. In the process, they critique multiculturalism as an often violent antiblack settler practice that recruits Native people into a racial schema exploited by white supremacy. In centering performance, their work argues that the body is a critical site for decolonial practice that embraces the feeling of togetherness to disrupt white settler colonial power over time, space, and belonging. 
Education
M.A. History, University of Illinois at Urbana-Champaign, 2017
B.A. Gender and Sexuality Studies, Swarthmore College, 2014
B.A. Psychology, Swarthmore College, 2014
Awards and Honors
Illinois Program for Research in the Humanities Fellowship 2019-2020
Andrew W. Mellon Native American Scholars Initiative (NASI) Predoctoral Fellow, 2018-2019
University of Pennsylvania Visiting Scholar 2018-2019
List of Teachers Ranked as Excellent and Outstanding based on ICES Scores, Fall 2017
University of Illinois Graduate College Fellow, 2015-2017
Courses Taught
HIST 100: Global History 
AIS 101: Introduction to American Indian Studies 
Additional Campus Affiliations