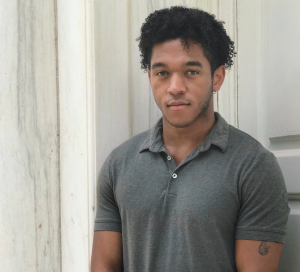 Contact Information
309 Gregory Hall
810 S Wright
M/C 466
Urbana, IL 61801
Biography
Morgan L. Green (Black/Lenni-Lenape) is an interdisciplinary scholar and writer born and raised in West Philadelphia. Currently, he is a PhD candidate in History with graduate minors in American Indian Studies and Queer Studies. Prior to moving to Illinois, Morgan received his B.A. in Psychology and Gender and Sexuality Studies from Swarthmore College. 
In addition to his scholarly pursuits, Morgan wants to discover new ways of articulating and displaying history. He is particularly interested in findings points of connection between theatre, dance, mixed media, and history in order to present historical evidence in more immersive ways for general audiences.
Research Interests
20th Century Urban Indigeneity
Queer Studies
Women, Gender, and Sexuality
Modern U.S. History
Race and Ethnicity
Research Description
My dissertation investigates the ways indigeneity was debated, performed,acknowledged, and embodied by Native and non-Native people in late 20th century Philadelphia. Covering roughly a thirty-five year period beginning in 1970, I focus on developments in anthropology, urban planning, civic celebrations,state recognition policy, and multiculturalism as they relate to Philadelphia's urban renewal projects, the city's urban Indian center, and traditional Lenapeterritory (Lenapehoking). I read multiple disjointed archives together in order to trace the ways indigeneity functioned as both lived experience and as social, intellectual, and cultural capital during urban redevelopment.
Education
M.A. History, University of Illinois at Urbana-Champaign, 2017
B.A. Gender and Sexuality Studies, Swarthmore College, 2014
B.A. Psychology, Swarthmore College, 2014
Awards and Honors
Illinois Program for Research in the Humanities Fellowship 2019-2020
Andrew W. Mellon Native American Scholars Initiative (NASI) Predoctoral Fellow, 2018-2019
University of Pennsylvania Visiting Scholar, McNeil Center for Early American Studies, 2018-2019
List of Teachers Ranked as Excellent and Outstanding based on ICES Scores, Fall 2017
University of Illinois Graduate College Fellow, 2015-2017
Courses Taught
HIST 100: Global History (TA)