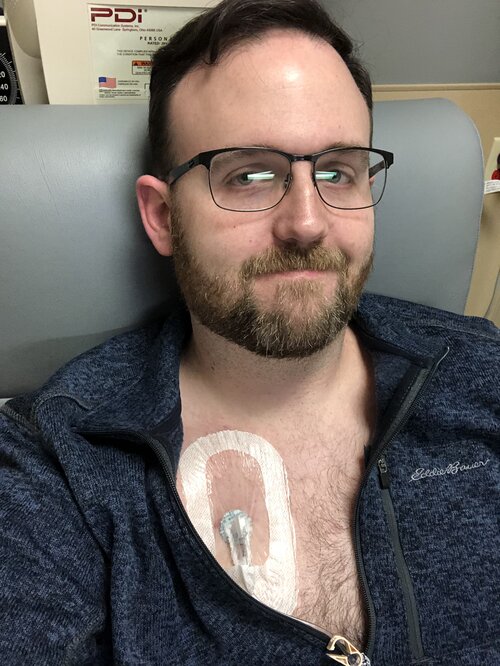 Contact Information
309 Gregory Hall
810 S Wright
M/C 466
Urbana, IL 61801
PhD Student | Research Assistant | Visiting-Instructor
Biography
A native of Seattle, WA, Jack E.C. Anderson is from a working class family, whose members worked in the fishing and construction industries in the Pacific Northwest and Alaska. Jack is a first generation college student, starting out at Highline Community College while in high school through the Running Start program. He went on to earn an AA with a History emphasis. After transferring to Western Washington University as an undergraduate he completed a double-major in History and the Study of Religion, focusing on the medieval Jewry and Islam. His senior thesis, titled 'From Refugees to Englishmen: Jews in England from Readmission through Emancipation,' focused on the long and complicated history of Jewish assimilation into English society, specifically how the English elite attempted to open a path for Jewish acceptance in the face of over five centuries of deeply embedded anti-Semitism, going back to the origin of blood libel and Jewish monstrosity. 
After graduating in June 2009, Jack joined the Master's program in History at Western Washington University in the September 2009, receiving scholarships for academic achievement and merit his first year, with full funding as a Teaching Assistant his second year. His major field was medieval Europe, with a secondary field in ancient history. After initially continuing his research of the medieval Anglo-Jewry, he began to look at national and collective identity in premodern England. In particular, Jack found a strong connection between expressions of national unity and the rise of the vernacular as a unique occurrence in medieval England. However, even with a growing connection between Englishness and the English language, national identity continued to be articulated through the two other dominant languages of medieval England: Anglo-Norman French and Latin. This all ended up becoming the focus of his Master's thesis, titled 'Three Languages, One Nation: Trilingualism and Expression of Nation Identity in England, 1215-1350.' 
During the second year of his MA, Jack was diagnosed with Crohn's disease, an autoimmune condition affecting the digestive tract. The disease was aggressive, requiring him to continue his studies part-time while undergoing treatment, and eventually led to a medical leave last two years. After two surgeries to improve his condition, Jack was able to resume his studies full-time at the end of 2014. With his condition under control, he applied to and was accepted into the History PhD program at the University of Illinois, Urbana-Champaign. Shortly after starting his studies at UIUC, he completed and defended his MA thesis. 
While at UIUC, Jack has been an active member of the History department: he's been a member of the Undergraduate Studies Committee, the Library Committee, and was a GEO steward, while also teaching and mentoring students inside and outside of the classroom, especially first generation students. Most recently he started the History department's Reacting to the Past Club. In Fall 2016 he worked as a Graduate Teaching Assistant for History 141: Western Civilizations overseen by Prof. Carol Symes, earning a place on the university's List of Teachers Ranked Excellent. During the academic year 2017-2018, Chris taught two standalone courses using the Reacting to the Past pedagogy, earning another place on the List of Teachers Ranked as Excellent for Fall 2017 and List of Teachers Ranked as Outstanding in Spring 2018. 
Jack's research at UIUC began with looking at Anglo-Jewish communities in medieval England, but recently pivoted to focus on the Domesday survery and the so-called Domesday satellites. During the summer of 2018 he completed his pre-dissertation research trip, which was supported by a departmental grant from History, along with support from the Program in Medieval Studies and the Program in Jewish Studies. 
Jack continues to battle Crohn's disease and its affects on his research and teaching. Because of his own invisible disease, he is a strong advocate for students at UIUC who also manage chronic illness while pursuing degrees, acting as a mentor and ally. 
Outside of academia, Jack enjoys spending time with his wife Mary and their beagle Lemon, golfing, beating escape rooms, and playing games with friends. 
Research Interests
Medieval Europe
Manuscript Studies
Anglo-Norman England
Domesday Studies
Research Description
The so-called Domesday "satellites," a constellation of manuscripts adjacent to the monumental royal survey known as Domesday Book, many composed a century or more after its completion around 1100. These understudied, and in some cases unstudied, manuscripts have become the center of inquiry for my dissertation: why these texts were produced, how they were used, and what they can tell us about royal authority and regional identities.
Education
M.A. Western Washington University
B.A. Western Washington University
Grants
Pre-Dissertation Summer Travel Grant, Department of History, Summer 2018
Program in Jewish Studies Travel Stipend, Summer 2018
Program in Medieval Studies Travel Grant, Summer 2018
Medieval Studies Fellowship, AY 2015-16
Awards and Honors
List of Teachers Ranked as Outstanding, Spring 2018
List of Teachers Ranked as Excellent, Fall 2016 and Fall 2017
Courses Taught
History/GWS 263: History of Medicine in the United States (Fall 2020, Visiting-Instructor)
History 203B RTTP: Ancient Empires: Athens and Rome (Spring 2018, Instructor)
History 203B RTTP: Tudor England: State and Theatre (Fall 2017, Instructor)
History 141: Western Civilizations Antiquity to 1660 (Fall 2016, TA)
Additional Campus Affiliations
Medieval Studies | Jewish Culture and Society